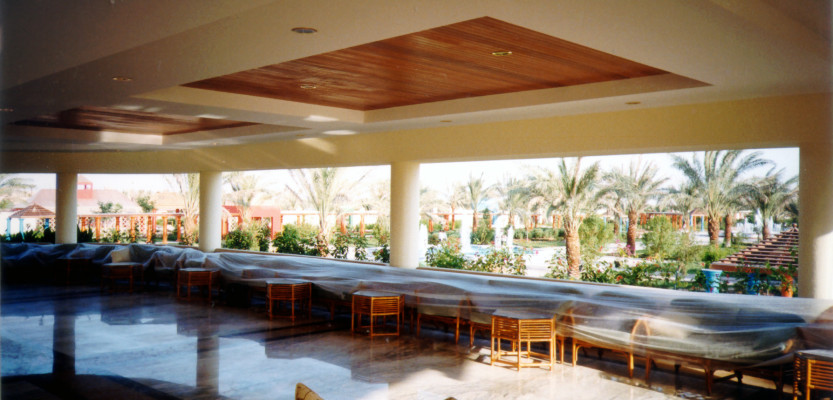 Our second palace project for the Crown Prince following the completion of Al Hasa. Our brief was to design a weekend palace and farm for His Highness in an isolated desert area some 20 km from Riyadh. Only the site area itself, (500,000M2), was stipulated together with a very outline brief that the facilities should allow for entertaining up to 200 guests together with a series of Royal suites and an indoor swimming pool.
Master-plan/Architecture:
A concept master-plan was produced proposing the following:
– A 200,000M2 central zone was to be highly landscaped with 13 major fountains and water features a central avenue with the palace accommodation at one end and a tented area at the other.
– 300,000M2 of date palms and fruit trees.
– A Royal Palm Court.
– Four Themed Gardens (Portuguese tile garden/Japanese garden/Tropical garden and English garden.
– A grotto with waterfall.
– A palace with a Majlis and Dining Room for 200, private offices, waiting areas and bathrooms together with full support facilities.
– Two Royal Suites together with an indoor swimming pool.
– Covered terrace areas with misting devices to lower the temperature.
– A Tea House set in a 300m2 pool.
– Dining tents and gazebos.
Interior Design:
The client wished the interiors to be "Syrian" in style and so we carried out extensive research in Damascus. Typically Syrian interiors utilise a lot of hand crafted painted wood panels and coloured glass lanterns. All of the interior panelling was made in Syria and shipped to Riyadh where it was installed.
Landscaping:
We designed the hard and soft landscaping working closely with Werner de Bock of Landplan Associates who was responsible for the selection of trees and plants. His use of colour brought enormous vibrancy to the landscaping.
Services Provided: Lead Consultants/Master-planning/Architecture/Interior Design/Hard Landscape Design/Fountains and Water Features (whilst at dBJ)
Team: James Ward
Location: Riyadh, Saudi Arabia
Client: The Crown Prince of Saudi Arabia
Completion: 1998