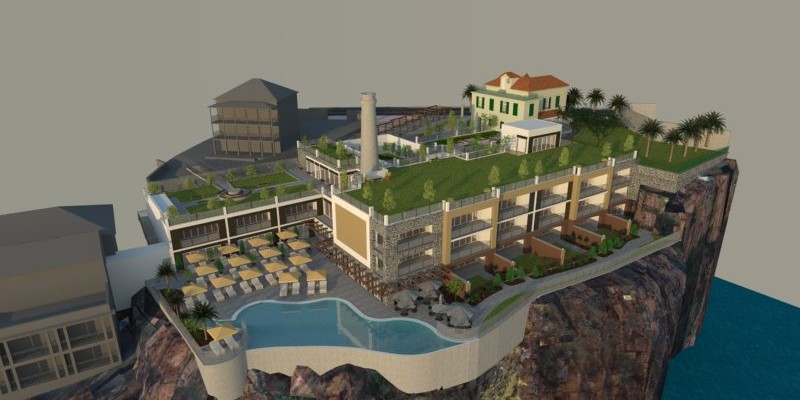 Em 1992, James Ward projetou o seu primeiro hotel na Madeira, o Cliff Bay Hotel.
Um Resort Hotel de 5 estrelas, sobre um penhasco dramática com uma vista deslumbrante sobre a baia do Funchal.
Agora, após 20 anos, projetamos uma extensão ao já existente Hotel The Cliff Bay.
A intervenção proposta terá 31 suítes de luxo com o reaproveitamento do Chalet Reid`s e do Chalet Pires, que farão parte de um todo. Terá um Restaurante Panorâmico, bar, sala de jogos, piscina infinita e espaços verdes circundantes que elevarão o projeto para um patamar superior.
Serviços Prestados: Arquitetura
Localização: Funchal, Madeira, Portugal
Cliente: Porto Bay Hotels & Resorts
Conclusão: Em fase de aprovação
In 1992 James Ward´s first project in Madeira was the Cliff Bay Hotel, a 5 star resort hotel set on a dramatic cliff overlooking Funchal Bay. Now 20 years later we have designed a 5 star plus suite hotel directly linked to the Cliff Bay Hotel, comprising 24 luxury suites with bar, outdoor pool and secluded walled gardens.
 Services Provided: Architecture
Location: Funchal, Madeira, Portugal
Client: Porto Bay Hotels & Resorts
Completion: Planning Approval